Reflective gear is very important and can save lives in many ways. Whether you are into construction work, road running in the dark or riding your bike, having a good reflective vest will come handy. LED reflective vests are unlike traditional reflectors since they shine brighter in the dark and are more visible which means that one gets increased safety.
Choosing The Best LED Reflective Vest
Picking the right reflective vest can be difficult, but with these factors checked, you can get the right one.
Light Intensity & Patterns
Different reflective vests are designed using LEDs that have varying light intensities. This means that some are brighter than others and are more visible on long distances. It is always advisable to get one that is very reflective since it guarantees more safety than those with less light intensity. Besides that, there are LED reflectors that shine different light patterns and colors which could also mean better visibility. The patterns and LED colors is more of a subjective option that depends on one's taste.
Fitting & Comfort
Besides just the lighting part, one should also make sure that they are the LED reflective vest that they are getting will fit perfectly and comfortably when worn. If the reflective gear doesn't fit comfortably, then one will feel uneasy wearing it which means that they will not get to enjoy their running or outdoor activity that they are participating in. That said, you should get a good size that best fits you and feels comfortable when you are spending time outdoors.
Power Options
The illumination in reflective vests depends on many power options. Some operate using alkaline cells while some are powered with tiny but powerful battery which help produce sufficient light. Some are also designed to be recharged which is a good thing that comes in handy in many ways. The battery and power option that is used in a reflective vest will determine the durability of the reflective functionality in a vest. The better the power option and batteries powering it, the longer the reflective properties of the vest.
Pricing
LED reflective vests are designed differently and with style comes the price tag question. The materials used in making an LED vest determines its quality but also affects the cost. However, there are LED reflective vests for every price, and pricier ones don't always mean that you a getting a better reflective vest. As such, always do your due diligence to ensure that all other factors are spot on.
---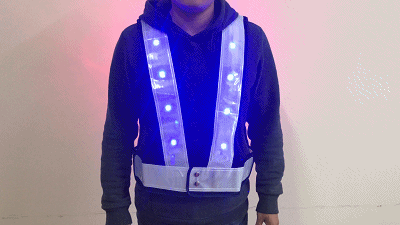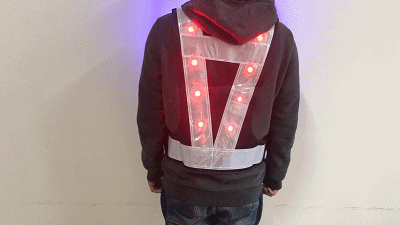 Designed with 16 LED lights along the high vis reflective straps from both front and back, this is a good choice for anyone who spends time on the road. It is very lightweight and is made of good quality that guarantees good durability. The LED lights are powered by 3 AA batteries or by USB Rechargeable device. Depending on the situation on the road and whether you are in an emergency situation, this reflective vest has 3 lighting modes; continuous, slow flashing or rapid flashing.
It is the ultimate road reflective vest that is guaranteed to give someone safe on the road yet comes at an affordable price.